"Cricket Wireless Hosts Community Food Drive Thanksgiving Week"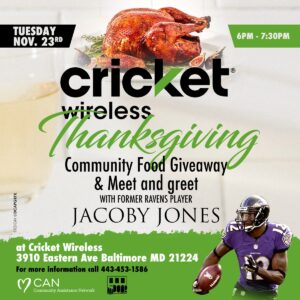 Baltimore, MD!   Cricket Wireless, an American wireless service provider, owned by AT&T which provides wireless services to ten million subscribers in the United States, will host a turkey and food give-away at one of its locations, 3901 Eastern Ave, Baltimore Maryland from 6:00 pm to 7:30 pm on Tuesday, November 23rd, 2021.
In partnership with Community Assistance Network, Cricket Wireless will provide turkeys, food items and other necessities to the Baltimore community on a first come first serve basis. Additionally, those attending will also have the opportunity to meet former Baltimore Ravens and Super Bowl champion Jacoby Jones.
"We are constantly looking to engage with the community and giving back whenever necessary", says Carmen Williams, Senior Marketing Manager, Mid-Atlantic States for Cricket Wireless. "What better time to do so than during Thanksgiving week", she continues to say.
"We are excited to partner with Cricket on this wonderful event" says Tracie Williams, Director of Resource Development and Marketing for Community Assistance Network. "We feel that this is a great opportunity to promote the services CAN offers to the community".
Also assisting with the event is The Door's (Baltimore Urban Leadership Foundation) food pantry.  The Door is an organization whose mission is to facilitate the transformation and holistic growth of youth, families and communities through collaborative partnerships, direct service, capacity-building and resource development. www.thedoorinc.org
About Cricket Wireless 
 Cricket Wireless was founded in March 1999 by Leap Wireless International. AT&T acquired Leap Wireless International in March 2014, and later merged Cricket Wireless operations with Aio Wireless. Cricket Wireless competed primarily against T-Mobile's Metro and Verizon's Visible as part of the wireless service provider brands. Cricket Wireless deployed its 5G network nationwide on August 21, 2020. Shortly afterward, Cricket announced the shutdown of its 3G network starting in February 2022. For more information on Cricket Wireless, please visit www.cricketwireless.com
About Community Assistance Network
 The Community Assistance Network, Inc. (CAN)'s mission is to work in partnership with the community to develop, operate, and support programs that reduce vulnerability and promote personal growth, stability and self-sufficiency among low-income residents. CAN is a Baltimore County-based non-profit organization, established in 1965 as part of a national network of over 1,000 Community Action Agencies. For more information on CAN please visit www.canconnects.org
Rohan Sutherland | Genesis Media Group | 561-859-7552 | Rohan@genesismp.com